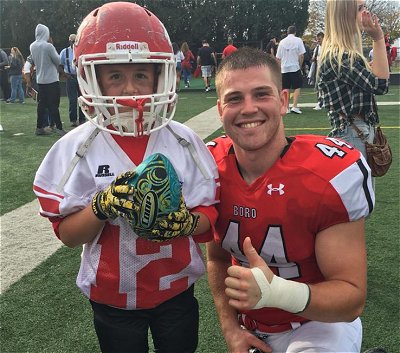 Bradford Era – by Nate Steis
The date is Oct. 25, 2013. The Smethport Hubbers made the drive to Ridgway to take on Ridgway/Johnsonburg in an Allegheny Mountain League game.
Starting at quarterback for the Elkers is Division I baseball prospect Ben MacDonald, while the Hubbers have themselves a terror on the opposing side as fullback and linebacker Ryan Stratton is ready to add to his already impressive tackle total on the season.
The game proved to be a true mud bowl, and Ridgway came out on top by a score of 8-0. MacDonald was able to find paydirt for the game's only touchdown, but the Elkers could not keep Stratton off of their ball carriers as he racked up 17 total tackles on the night to go with 66 yards as a ball carrier on 11 carries. Stratton certainly did his part to help the Hubbers stay competitive in the game, and it was games like these that allowed college coaches to understand the ability he had on the gridiron. Read More