Smethport Web — by Nathan Muller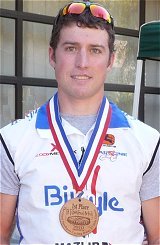 Against the backdrop of sunny skies and dry streets, the top five cyclists in the men's 53-mile 'Wheel Around the Hub' Bicycle Race in Smethport, Pennsylvania posted record-setting performances on Saturday.
In the final seconds of the race down Main Street, Adam Farabaugh, 21, from Owego, New York, edged out David Novak, 17, from Tunkhannock, Pennsylvania, for an exciting 1st Place win.
Farabaugh took the cash prize of $300, plus the Gold Watch and medallion. Only tenths of a second separated Farabaugh and Novak, who took the 2nd Place medallion.
View the exciting finish…
Coming in third, fourth and fifth respectively were Ryan Nye (Lockport, NY), Joseph Ruggery (Greensburg, PA) and Steven Wells (Orchard Park, NY).
All five cyclists beat last year's record turned in by Jay Joslyn from Buffalo, NY, who broke the previous men's record with a time of 2:06:18.2.
In the 53-mile Women's Open Class, Kelly Casey, 24, from Elma, New York, won the 1st Place cash award of $200, plus the Gold Watch and medallion. She posted a time of 2:24.29. In 2009 Janel Bedard of Morgantown, West Virginia, set the Women's course record with a time of 2:07:28. Toni Flament, 45, from Emporium, Pennsylvania took the 2nd Place medallion.
In the 15-mile race Dave Novak, 50, from Amherst, New York, took overall 1st place this year with a course time of 45:48.35. The record for the 15-mile race was set in 2007 by Chad Swanger of Milton, Pennsylvania, with a time of 38:46.9. In the Women's class, JoAnn Dombeck, 50, from Olean, New York, took 1st with a time of 49:37.50. JoAnn is the record holder, posting a time of 43:41.8 in 2008.
Timing and computer services were provided by The Runner's High from Grove City, Pennsylvania. The race results for the 53-mile and 15-mile courses can be viewed at their website.