Smethport Web — by Nathan Muller
Smethport's juried PA Wilds Artist Julie Mader donated a framed and matted print (20″ x 9″) for public auction, which was held on Saturday, September 18, following the "Wheel Around the Hub Bicycle Race".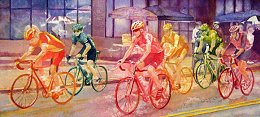 At the conclusion of the race, just before the presentation of awards, bidders had the opportunity to add to their art collection Julie's signed, 3-D, cycling themed "Full Spectrum Riders" print, numbered 3 of 25.
The auction occurred in front of the Court of Angels restaurant across from the McKean County Courthouse and was conducted by PA licensed auctioneer, Smethport Mayor Ross Porter.
Up-and-coming Mader, the celebrated artist for the Steep Canyon Rangers bluegrass band, has received extensive attention and rave reviews throughout the eastern United States. All proceeds of the framed and matted print were donated to the Smethport Fire Police by the artist.
Find out the result of the auction right here: