Smethport Web — by Nathan Muller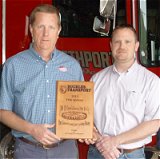 David Buckler, president and owner of Buckler Transport in Roulette, PA, gave a record donation of $2,000 to the 2014 Wheel Around the Hub Cycling Races, proceeds of which benefit the Smethport Fire Department. Buckler presented the check to Smethport Mayor and SFD Captain Wayne Foltz, Fire Chief Steve Field, and wheel race organizer Ross Porter.
Buckler Transport operates a fleet of 83 trucks and a 150,000-square-foot climate controlled warehouse that exclusively serves Verallia Corporation in Port Allegany, a producer of spirit bottles normally destined for the wine producing areas of the Finger Lakes or in Ontario.
Wayne Foltz presented David Buckler with a wood plaque to commemorate his participation as a Title Sponsor of this year's cycling races. The historic 53-mile, 7-circuit Gold Watch cycling races will be held in Smethport on Saturday, September 13th.
Buckler said he was happy to make the donation because the races bring participants from all over the world into our communities, which is good for businesses and residents.
Check out the sponsors of this year's Wheel Around the Hub event »