Smethport Web — by Nathan Muller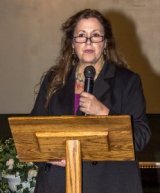 The Smethport Area Chamber of Commerce held its 13th Annual Business Dinner on Thursday at the Court of Angels Restaurant. The theme of this year's event was "Celebrating Entrepreneurship & Free Enterprise".
The Chamber announced its participation in a summer program called Pennsylvania Free Enterprise Week, which is now in its 36th year. More than 2,000 young men and women will attend one of its five sessions during July and August, including four Smethport Area High School student. Among them is junior Kristin Andrulonis, whose parents Christy and Jeff Andrulonis own and operate Bradford Speedway and Colonial Media + Entertainment. Program graduates qualify for $20,000 in scholarships.
PFEW teaches young people about the world of business by allowing them to act the parts of senior management in an imaginary company. During their seven-day stay, students operate these imaginary firms for the equivalent of three years in a computer-simulated environment, experiencing every aspect of what it takes to make a business profitable. They will also hear speakers daily who address a variety of issues that are germane and important to the health of our state's business community. Graduates take away a vastly improved understanding of how our free market system operates and an appreciation of the critical issues that face all Pennsylvania businesses.
The Chamber dinner featured a special presentation by Karen Musante from PA Free Enterprise Week and program graduate Chris Lashway from Port Allegany who talked about his experience attending the program at Lycoming University.
The Chamber presented several awards:
Mansion District Inn Suites – Business of the Year
James Herzog – Volunteer of the Year
Hamlin Memorial Library – Community Service Organization of the Year
Singer and guitarist John Meade provided exceptional musical entertainment during the evening. The dinner event provided a great opportunity to reconnect with friends, neighbors and business owners who make Smethport the special community we all enjoy.