The Bradford Era — by Chuck Abraham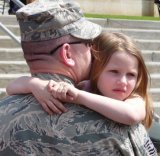 The keynote speech at the Smethport Memorial Day ceremonies on Monday morning recognized and thanked veterans, both living and deceased, for their military service.
Keynote speaker Rev. Frank Eppley, chaplain for VFW Post #2497 and pastor of Emmanuel Mission Church in Kane, was shot three times by the same enemy soldier before returning fire.
Eppley said it is critical to remember those soldiers who made the supreme sacrifice. "The finest tribute that we can pay our fallen comrades today is that they did not die in vain," Eppley said. "We must stand and pledge with our fallen comrades that liberty shall live on for all generations." Read More »