Smethport Web — by Nathan Muller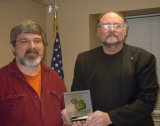 The PA Route 6 Alliance presented its first annual Heritage Community of the Year Award to Smethport Borough Council and Mayor Ross Porter at the Borough Council meeting on Monday, December 5.
The Alliance noted that Smethport was the first community to be recognized as a PA Route 6 Heritage Community, which included the development of a heritage work plan. The Smethport Heritage Council, appointed by the Borough Council, has been implementing the projects outlined in the plan for the last four years.
In May 2011, First Lady Michelle Obama sent a letter designating Smethport as a Preserve America Community. According to the National Trust for Historic Preservation, these communities are designated based on their commitment to protect and promote historic assets through education and heritage tourism. Mayor Ross Porter was able to demonstrate that commitment through the Smethport work plan.
PA Route 6 Alliance Executive Director Terri Dennison said the Heritage Community of the Year is presented to the Heritage Community that has embraced their Heritage Tourism work plan and implemented worthwhile projects that have showed noteworthy impacts and results. For example, Smethport has addressed issues of trail connections, way-finding and interpretive signage, and local promotion both on their own and through cooperative efforts with the Allegheny National Forest Visitors Bureau.
The PA Route 6 Alliance is the managing entity for the PA Route 6 Heritage Corridor. As a state heritage area, the Alliance focuses on efforts to preserve, enhance and promote the transportation heritage of one of the nation's first transcontinental highways; to sustain and enhance the small rural communities linked by the highway; and to preserve and enhance the natural, scenic beauty of one of America's favorite "road trips".
For more information on PA Route 6, check out their website at www.paroute6.com.