Smethport Web — by Nathan Muller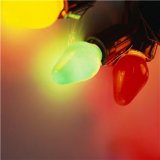 For the 11th consecutive year, the Senior Center sponsored an outdoor lighting contest, with members touring Smethport for the best lit homes aboard a McKeirnan school bus.
The Chamber of Commerce put up cash awards of $50.00 for 1st place, $30.00 for 2nd and $20.00 for 3rd place.
This year's first prize goes to Dan and Kim Woods of 28 Bank Street. Second prize goes to Fella and Debbie Wright of 33 Willow Street. Third prize goes to Todd and Lori Smith of 108 West Green Street. Todd and Lori won second prize last year.
Congratulations to all!