Only nine tenths of a second determined the winner of the men's competition in Smethport's annual Wheel Around the Hub cycling races. After careful study of all recording devices at the finish line, 19-year-old Cheyne Hoag of Dansville, New York, emerged as the winner of the 53-mile race, narrowly edging Jason Zimmerman of Latrobe, Pennsylvania.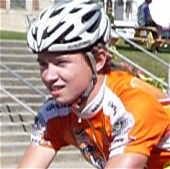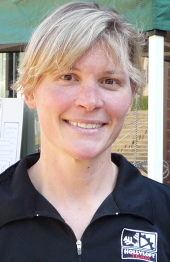 Jill Behm of Erie, Pennsylvania took first place in the women's 53-mile competition. She set a new course record with a time of 2:08:37.3.
Riding a Jamis bike and sporting number 584 over orange colors, Cheyne said his biggest challenge of the race was that he did not feel warmed up enough at the start. This changed during the second lap. Fully warmed up and hitting his stride, he broke away from the pack. In contention for the lead throughout most of the race, Cheyne said he knew only in the last lap that victory was within reach.
Heading down W. Main Street toward the finish line, Cheyne and Jason Zimmerman battled alone for the lead, with Jason slightly ahead most of the way. Despite Jason's blazing speed, a quasar-like energy burst by Cheyne propelled his bike across the line with blinding fury, forcing one of the tightest finishes ever for the Wheel Around the Hub event. Cheyne set a new course record with a time of 2:07:09.0.
Cheyne participated in last year's Wheel Around the Hub, finishing in 11th place. He placed 3rd in the 2007 U.S. Junior National Championships Road Race. He also competes in mountain biking, having won the Highlander Mountain Prologue Time Trial in 2007 for the fourth consecutive year. The event is held in upstate New York's Finger Lakes region.
We look forward to having Cheyne and Jason back in Smethport for next year's Wheel Around the Hub, along with all of this year's participants.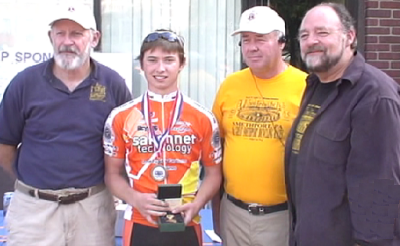 Left to right: Smethport Lions Club President "King Lion" Ron Willis; Cheyne Hoag, Dansville, NY; Smethport Lions Wheelrace Committee Co-Chair Kerry Fetter; and Smethport Lions Wheelrace Committee Co-Chair Mayor Ross Porter. Over 70 volunteers from Smethport and other communities helped make this event possible.
Click here to get all the race results, including detailed statistics on 63 competitive cyclists.
Read cyclist Steve Brewer's account of his experience in the Wheel Around the Hub race.