Smethport Web — by Nathan Muller
Imagine your community being in control of its energy destiny; producing electricity and heat while keeping all of those energy dollars recycling in the local economy. A pipe dream you say? Not according to a plan that is rapidly unfolding in Smethport, Pennsylvania with help from county, state and federal leaders.
Consensus in Harrisburg
Members of the Smethport Board of Trade, joined by experts from the Pennsylvania State University and the U.S. Forest Service, met in Harrisburg on September 2 to present the Borough's conceptual framework for a combined heat and power (CHP) system fueled by woody biomass that would provide heat and electricity from local, low value timber. The meeting, hosted by the Department of Conservation and Natural Resources (DCNR) demonstrated strong interest in Smethport's efforts and offers to assist in steering the Borough to potential funding sources and technical expertise to proceed with business plan development and project feasibility studies.
The Borough is exploring the feasibility of tapping into woody biomass as a key, carbon neutral, energy alternative to fossil fuels. During a July 14 special meeting, Council members were briefed on a plan to introduce a combined heat and power (CHP) system to Smethport that would supply district heat and electricity to local residents, businesses and government buildings within the Borough service area.
The Council voted unanimously to encourage further study of this alternative energy concept. Smethport Borough Council member Josh Costa called it a "very exciting proposition" for Smethport.
Project Momentum is Growing
Since the July 14 council briefing, the project has gained incredible momentum, with county, state and federal officials joining directly in the effort to make the CHP system in Smethport a reality. Dr. Tim Pierson of Penn State Cooperative Extension, and co-chairman of the Smethport Woody Biomass Leadership Team (SWBLT), said he has never seen a project of this magnitude unfold so quickly. "Everyone who hears about the project wants to be involved," he said.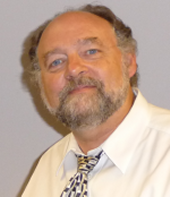 Ross Porter,
Co-Chairman,
Smethport Woody Biomass
Leadership Team
At the August 4 meeting of the SWBLT, Mayor Porter noted the historic role of the lumber and wood chemical industries and their contribution to Smethport's rich heritage. While these early industries had a devastating impact on the environment, he noted that today's science, technology and environmental understanding will prevent the mistakes of the past. Dr. Tim Pierson noted that all of McKean County stands to benefit from what is happening in Smethport.
Mayor Ross Porter noted that meetings have been held almost daily and the demonstration project is now supported by a variety of public entities. "The Pennsylvania Department of Conservation and Natural Resources and the US Forest Service are actively assisting our efforts to develop the project with participation, support and guidance from our not-for-profit electrical supplier, American Municipal Power-Ohio," he said.
According to the SWBLT, a working group of the Smethport Board of Trade, the new power system would be fueled by low-value, unmarketable timber harvested from surrounding forests and turned into chips. The chips would be conveyed to a facility that would burn them so efficiently at super high temperatures that there would be virtually no pollution. By developing a new market for low-value timber, current forest stands would benefit from the removal of low-grade and undesirable species thereby improving timber quality, wildlife habitat, and enhancing recreational opportunities.
Public and private land owners would benefit by having timber stand improvement and an additional market for their low-value resource. With the current downturn of the housing market, fewer timber crews are working in the forest today, according to Dr. Pierson.
The demonstration project in Smethport would not only help stabilize the timber industry and keep forest crews working, it would generate new jobs in construction, trenching, pipe fitting, maintenance, installation and service, repair, engineering, process control, and eco-energy tourism.
Harvesting methods would adhere to new sustainable forest biomass harvest guidelines issued by the Department of Conservation and Natural Resources. Tim Pierson, along with Dr. Jim Finley, PSU School of Forest Resources, and Dr. Susan Stout, Project Director, USFS Northern Research Station developed many of the protocols used in the report. Ross Porter, who acts as co-chairman with Pierson at the SWBLT meetings, noted, "Our project will be totally within the guidelines for sustainably harvesting woody biomass. That's a key part of the project."
Tim Pierson developed many of the charts used in the report. Ross Porter, who acts as co-chairman with Pierson at the SWBLT meetings , noted, "Our project is totally within the guidelines. That's a key part of the project."
Smethport's CHP system would also produce an economic engine for green energy related businesses, services, and research, and incubator through a Research, Technology, and Outreach Center. The SWBLT expects an infusion of "green collar" jobs into the area that will bolster the economy. Additionally "eco-energy tourism" will compliment the PA Wilds initiative. The system would also establish a positive business and industrial environment offering comparatively inexpensive heat and power.
The Borough of Smethport's wholesale cost for electric was $1,087,147.72 in 2006, noted Mayor Porter. "The new power system would capture and re-circulate these energy dollars within the local economy," he said. "In addition this is a real opportunity to coordinate funding sources offsetting the huge expense of replacing Smethport's antiquated and failing water infrastructure with the installation of the district heat piping system."
According to SWBLT member Jim Herzog, if the plant mirror's the Güssing facility, Smethport would most likely utilize about five truckloads of wood chips per day to fuel its CHP plant. This is considered to be a relatively insignificant amount of the low-value, woody biomass that is actually currently available.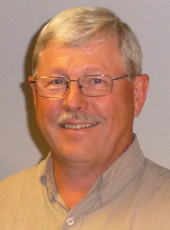 Dr. Tim Pierson,
PSU Cooperative Extension and Co-Chairman,
Smethport Woody Biomass
Leadership Team
At the August 4 meeting of the SWBLT, Dr. Pierson explained the advantages of building a CHP facility in Smethport. He also described his findings from a tour of a similar facility in Güssing, Austria, and compared the economic and resource situations of the two towns.
Among the 20-member U.S. team that visited Güssing, Austria in June were Dr. Tim Pierson, Dr. Charles Ray of Penn State's School of Forest Resources, Paul Roth of PA DCNR, and Lew McCreery of the U.S. Forest Service, (all now members of the SWBLT). The four are now assisting the SWBLT in the development of the Smethport Combined Heating Power (CHP) project and are helping to identify funding from state and federal sources.
The rural town of Güssing operates a biomass CHP system that is presently serving 4,000 residents. Upon his return from Güssing, Tim Pierson led the July 14th Borough Council briefing, showing slides and discussing his trip and providing basic information about the process used to convert wood chips into heat and electricity. He noted that Güssing, located in southern Austria, looks and feels very much like Smethport, but that Smethport has far more low-value wood resources to draw upon for this type of energy production.
He noted that 600 to 1,000 people a week presently visit Güssing just to tour the renewable energy facilities. The entire CHP facility takes up a plot of land about the size of a football field. Because the plant burns wood chips at 93% efficiency, the stainless steel stack has remained remarkably clean for the past seven years.
The situation was much different in Güssing before the energy plant was built. "The town was losing jobs, the economy was stagnant, and the young people were leaving. Now, the town has a thriving tourist trade, an R&D center, a business incubator, and a hotel," Pierson said.
Lew McCreery of the U.S. Forest Service agreed with Dr. Pierson's assessment. "Smethport is an ideal location for the project," he said during the August 4 meeting. McCreery, Woody Biomass Coordinator for USFS for the northeastern US, said he would be responsible for approaching USDA Rural Development for funding. The agency has a program that helps finance technologies that convert biomass into energy. "There are a number of programs that can support this kind of project", he said. Smethport is pursuing financial assistance from state sources as well.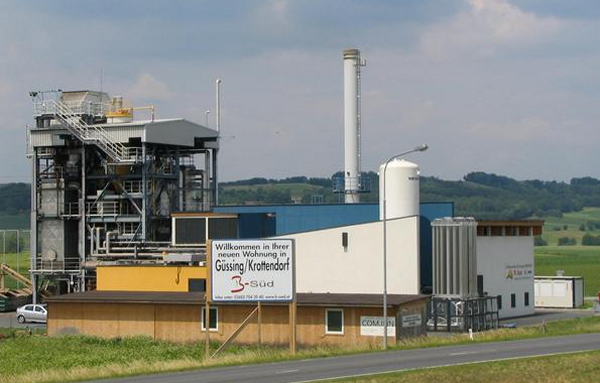 The CHP plant being discussed for Smethport may look and function similar to this plant in Güssing, Austria.
Why Now?
As reported by The Bradford Era, the price of natural gas is likely to increase by 30 to 50 percent for local homeowners, soaring beyond a projected 2.2 percent increase set by National Fuel Gas Co. in early January 2008.
The reason for the increase is the dramatic rise in the price of natural gas in the commodities market, which reflects the higher demand for energy globally. Inflation is another factor in the rising price for natural gas.
With Pennsylvania set to further deregulate the utility industry in January 2010 by lifting rate caps for generating electricity, the price consumers pay for natural gas could go much higher. When the caps come off, a spike in consumer prices is expected, as has already occurred in other states when caps were removed. All this lends urgency to pursuing alternative energy sources.
Smethport is taking a proactive approach with its plan to implement a highly efficient, non-polluting, carbon neutral, CHP system that uses low-value wood as the energy source. Any excess electricity will be put up for sale and distributed over the existing power grid, providing a new revenue stream for the Borough. and an opportunity for regional economic renaissance.
Why Smethport?
Ross Porter approached the CHP project from the perspective of "Why Smethport?"
The Borough has been its own power company since 1921, Porter said, and is well positioned to exploit this alternative energy source.
Noting that Smethport is located in the center of a "vast wood basket" – the Pennsylvania Wilds Region – representing 5.2 million acres of forest land, Porter said this makes plentiful woody biomass feed stocks available within the immediate region, including the 500,000 acre Allegheny National Forest and huge tracts of private and state forestland.
"If this cannot be made to work in Smethport, it cannot work anywhere else," said Porter.
According to the SWBLT's vision statement, its goal is to facilitate the research and development of a demonstration pilot plant near or within the Borough of Smethport, which will provide carbon neutral, sustainable, locally produced, renewable electric power and auxiliary district heat to Borough customers. There is even the possibility of a joint venture between public and private funding sources and ownership.
The project is expected to serve as a model for other communities throughout the state as well as nationwide. It is anticipated that Smethport will be revitalized from a thriving eco-energy tourism industry and new jobs for local residents.
Information Sharing
The SWBLT also seeks to establish a Woody Biomass Renewable Energy Research & Development Outreach (RDO) Center located in Smethport. The Center will study and share various biomass production and energy conversion technologies and facilitate the exchange of information between public and private sector partners.
With innovative partnerships between federal, state, and local agencies, institutions, and organizations, the CHP wood gasification system could be up and running within two years, establishing Smethport as an energy independent borough with a locally controlled, affordable, sustainable energy supply lasting into the foreseeable future and beyond.
A public forum for Smethport residents will be held in the near future.
Smethport Woody Biomass Project Leadership Team
Project Co-Chairs: Ross Porter-Mayor, Borough of Smethport and Dr. Tim Pierson – Penn State University Extension
Charles Ray – Penn State University
Don Tanner – Penn State University Extension
Robert Veilleaux – Penn State University Extension
Lew McCreery – US Forest Service
Paul Roth – PA DCNR
Meredith Hill – PA DCNR
Joseph DeMott – McKean County Commissioner
Al Pingie – McKean County Commissioner
Judy Church – McKean County Commissioner
Debbie Lunden – McKean County Planning Commission
Ray McMahon – McKean County Director of Economic Development
Gregory Rounsville – Smethport Borough Council President
Josh Costa – Smethport Borough Council
Paul Raymond – Smethport Borough Council
James Herzog -Smethport Board of Trade
Sean O'Day – Smethport Board of Trade
Terry Palmer – Smethport Borough Efficiency Committee
Jamie Pierotti – Smethport Board of Trade
Jovanna Porter – Smethport Planning Commission
George Romanowski – SASD Superintendent of Schools
Harold (Sandy) Wolfinger – Forester and Smethport forest landowner
Nathan Muller – President, Smethport Area Chamber of Commerce