Smethport Web — by Nathan Muller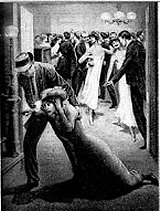 The McKean County Historical Society will hold a re-enactment of a murder trial committed in Kane during the early 1930s. The trial itself was held in Smethport under Judge Joseph Bouton, who will be played by Smethport attorney Anthony Alfieri.
At the invitation of the Kane Chamber of Commerce, the encore performance will be held at 7:00 pm on Thursday, September 23 at the Kane Middle School auditorium at 400 W. Hemlock Avenue.
The event will be dedicated to Regis Mutzabaugh, a prominent attorney who started his career in Kane in 1926 with the law firm of Mullen and Woods. The trial depicts the keen mind of attorney Mutzabaugh and some of the prejudices of the era.
The re-enactment was held earlier this year with well-attended performances in Smethport and Bradford.
For tickets, you can call the Kane Chamber at 814-837-6565 or pick them up at their office at 54 Fraley Street in Kane. Tickets can also be purchased at the door.