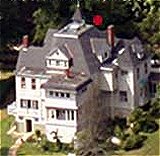 Starting this month, the Pennsylvania Wilds Resource Center begins ongoing coverage of new and expanding tourism businesses in the region through its monthly newsletter.
Among the businesses highlighted in the September issue of E-Update is the Mansion District Inn bed and breakfast in Smethport, which officially opened its doors last year.
The 1891 mansion, owned and operated by Jovanna Porter and husband, local historian and Smethport mayor, Ross Porter, offers luxurious one and two-bedroom exquisitely furnished suites.
"It's our goal for guests to experience Smethport's opulent 1890s lifestyle throughout their stay at the inn," Ross Porter said.
In addition, Chef Jovanna's three course, gourmet breakfasts, served fireside in the remarkable golden oak dining room, receive rave reviews.
The Inn is located in the heart of the historic Borough of Smethport's Mansion District, and is a great location to explore the grandeur of the PA Wilds region. To that end, the innkeepers keep GPS navigation units on hand for guests so they can discover the region through numerous day trips from a home base at the Inn.
Find pictures and other information on the Mansion District Inn at www.mansiondistrictinn.com