Smethport Web — by Nathan Muller
Thanks to Google technology you can now drive through Smethport without ever leaving your home. Just aim your browser to "Google Maps" and do a search for "Smethport Pa".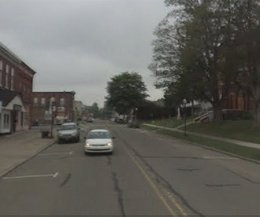 When the street map of Smethport shows up, drag the orange "Pegman" from the top left to the location in Smethport where you would like to start your drive. Pegman acts as your guide through Google's Street View.
Street View provides 360° horizontal and 290° vertical panoramic street level views of Smethport within Google Maps. Google collects these images using special vehicle-mounted cameras and equipment that capture and match images to a specific location using GPS devices.
Once the images are captured, they are "sewn" together to create a 360° panorama. Faces and license plates are blurred before the panorama images are served and become viewable in Google Maps.
Once in Street View you can change directions, zoom in or out on any feature, and move your view up or down. Using these features, you will discover that the Google vehicle captured Smethport when the temperature was 69°, according to the digital sign on Hamlin Bank. You can also get a full panoramic view of any location by clicking your mouse and moving it left or right.
You can begin your drive through Smethport by starting here. Just enter "smethport pa" into the search field. Then look for Pegman and drag it to the desired location on the map.