Smethport Web — by Les Jordan, Jr.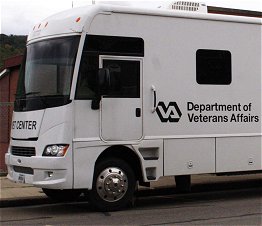 The Department of Veterans Affairs had their new Mobile Vet Center on display in Smethport in front of the American Legion Bucktail Post on Main Street, Thursday, Oct 1. The van is one of 50 new trucks purchased by the department for use throughout the United States.
The satellite equipped van was in Smethport to offer services to veterans and their families. While aimed primarily to provide counseling and support services for combat veterans and their families, the services also extend to all veterans who can receive recommendations for specific services offered at other Veterans Administration Centers across the country when visiting the van.
The services help the veterans and families to readjust to social conditions and cope with other problems related to combat and military life. Any combat veteran from any era is eligible for the services.
The large van contains two locations for counseling services that are arranged for complete privacy at the front and rear of the vehicle, and a third location in the center for the distribution of various support service pamphlets, brochures and other written information.
The vehicle also contains a large panel of state-of-the-art electrical equipment to operate the satellite system mounted on the vehicle top, explained Bill DeMauri, driver of the vehicle. DeMauri is a representative of the Department of Veterans Affairs, Erie Vet Center #222. The main purpose of the satellite system is for teleconferencing services.
He also pointed out that the truck can also be converted to an emergency vehicle in association with FEMA or the American Red Cross in the event of a disaster.
The mobile units are a new idea being tried by the Veterans Centers. Mark Russell of the DuBois Veterans Center, which serves the McKean County area, was present for the demonstration. While the vehicle is housed in Erie and serves an area roughly from Cleveland to Buffalo and Harrisburg, the Dubois office is responsible for services in McKean County.
Matt Windsor of the McKean County Veterans Administration was also on hand to answer questions and provide information. He explained that the service is on display in Smethport to advertise the service availability in the area.
Several veterans took advantage of the services throughout the day.