Smethport Web — by Les Jordan, Jr.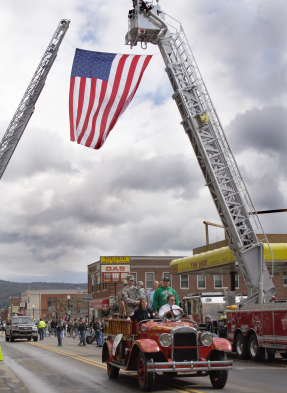 The Smethport Fire Department and the Smethport Veterans of Foreign Wars, Post #2497, combined forces on Sunday afternoon, Oct 4, to honor National Guard members of Charlie Company, who recently returned from service in Iraq.
Members of the unit, the 1/112th Infantry, Stryker Brigade Combat Team were carried in a special "Welcome Home Charlie Company" parade down Smethport's Main Street to a ceremony at the Courthouse.
Motorcycles, cub scouts, fire engines, veterans and borough officials all participated in leading members of the Combat team underneath a giant American Flag hanging from extended ladders from ariel fire engines of the Kane Volunteer Fire Department. Members of the National Guard unit traveled in the parade in the rear of a 1933 Stewart fire engine restored several years ago by the Smethport Fire Department.
A brief ceremony honored the soldiers at the Courthouse. Leonard Anderson, Smethport VFW Post Commander, spoke to the combat unit and large crowd gathered in front of the Courthouse and commended the men for the "hardships" and "risk" that they "suffered" in order to give "security" and "protection" to Americans at home.
Rev. Maxx Simms of the Hilltop Baptist Church delivered appropriate prayers, and Lindsay Jack sang a moving edition of the Star Spangled Banner, while several Cub Scouts stood at attention behind the combat personnel.
George Tufts, Commander of the Smethport American Legion, Bucktail Post #138, presided over an honor guard, while Deb Tufts played taps as the crowd bowed their heads in reverence.
Stephanie Kelly and Anna Kiehlmeirer of the Smethport VFW played a large role in organizing the event.
Photos by Les Jordan. Jr.
See related story in The Bradford Era.