Smethport Web — by Nathan Muller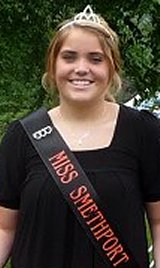 Miss Smethport, Kayla Woods, has been crowned McKean County Fair Queen for 2010-2011. As the new queen, Woods will represent the McKean County Fair in the January state fair queen contest in Hershey, PA.
In addition to the talent and speaking categories of the contest, the five queen candidates, who represented the county's high schools, were scored on interviews with the judges and the number of scheduled events they attended since mid-June. Wooly Willy Wonderdaze was one of the events Kayla and other candidates chose to attend.
For the talent portion of the contest, Kayla sang "Keep Holding On" and "Don't Stop Believing." Kayla is the daughter of Dan and Kim Woods of Smethport.
Kayla's new duties include reigning over the Fair and representing McKean County during the State Fair Convention in January.