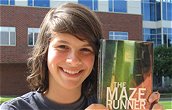 WPSU/Penn State Public Broadcasting engages communities in the heart of Pennsylvania with educational and commercial-free programs. One of these programs is BookMark, which features weekly book reviews submitted by anyone who likes to read and lives within the WPSU-FM listening area.
Smethport student Leah Caminite, the 13-year-old daughter of Claudia and Mark Caminite, recently reviewed "The Maze Runner" by James Dashner. The maze surrounds a completely enclosed environment, called "the Glade", where a group of teenage boys subsist by their own efforts. The only way to escape is through a maze that surrounds their living space.
If you're looking for a little suspense, try this new book. It's a perfect read for ages 11 to 15.