Smethport Web – by Nathan Muller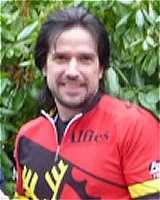 At an informal gathering of Wheel Around the Hub racing officials Saturday, Tim Vecellio of Lewis Run was presented with a 1st Place medallion for winning the men's 15-mile Wheel Around the Hub cycling race in the 40-49 age group.
The delayed award was due to Tim, 48, being placed in the wrong age group when he registered the day of the event. The error went undiscovered until recently.
Tim won the race with a time of 0.47:26.387, which also placed him 16th overall. He races with Team Hollyloft based in Jamestown, New York, which has about 250 members. Several members of the team participated in this year's Wheel Around the Hub cycling races.