Smethport Web — by Annie Wolfe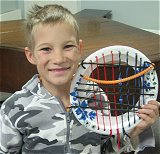 Big Brothers-Big Sisters of McKean County held its Fall Group Event on November 10th in Bradford to celebrate Native American Heritage month.
Alcohol and Drug Abuse Services Prevention Specialist Greta Billings presented an interactive workshop on building positive decision making skills and the effects of positive and negative peer pressure. Dr. J. Michael Stuckart, Professor of Anthropology at the University of Pittsburgh at Bradford, led an interactive discussion about the local Seneca-Iroquois culture in our area.
Native American foods were served, including corn bread made by event participants. Native American crafts and games were also enjoyed.
As a community service project, donations were collected for Destinations Bradford, a local outreach organization.
Group activities are held throughout the year, providing additional free recreational opportunities for matched mentors and youth. Group activities also provide an opportunity for interested individuals to serve as a mentor or" Bigs" for a day with youth who are waiting to be matched accompanied by their caregiver/parent.
Big Brothers-Big Sisters would like to thank the First Presbyterian Church for the use of their fellowship hall as well as the McKean County Probation Department's Good Growing Gardens Program for their donation of pumpkins.
If you would like to make a difference for a child in your community, please contact Big Brothers-Big Sisters of McKean County locally at 814-887-5591 or toll free at 1-877-776-1636.