Smethport Web – by Melissa A. Riehle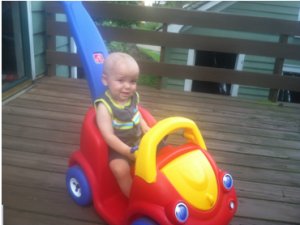 The Line Family and the American Red Cross will join together for a special blood drive on Monday, October 22, from 12:00 p.m. to 6:00 p.m. at the Smethport Fire Hall at 109 South Nelson Street.
This blood drive is in honor of their son, Gideon Line. Gideon was diagnosed with Leukemia on July 27, 2012, when he was only 15 months old. Since that time, he has received multiple blood transfusions as part of his treatment and his family knows that without the generosity of volunteer blood donors, Gideon might not be with them today.
The Line family is so grateful for what they have received that they want to help save others by encouraging blood donation within their community.
An emergency appeal early in the summer helped to temporarily stop the decrease in blood donations, but blood donations during the summer for the American Red Cross were at the lowest they have been in 15 years. Your blood donation helps to ensure that there is blood available for the treatment of cancer patients, people with blood disorders, trauma victims, premature babies and others who face life-threatening illnesses.
Donating blood is a profound act that helps save lives. Approximately every two seconds, a patient in the United States needs blood. That's why your blood donation through the Red Cross is so important. A blood donation may help save up to three lives and it only takes about an hour of time. It is the blood on the shelves today that helps save lives tomorrow.
All presenting donors will receive a voucher good for two great offers from Monro Muffler. The American Red Cross is urging all eligible donors to help keep the blood supply strong this fall by making an appointment to donate blood today by calling 1-800-RED CROSS (1-800-733-2767) or by visiting www.redcrossblood.org.
Please bring your Red Cross blood donor card or other form of positive ID when you come to donate.