Smethport Web — by Nathan Muller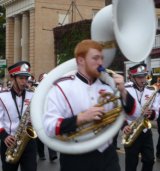 Friday's Homecoming Day parade down Main Street brought out most of Smethport, despite a cloudy sky and threat of rain. Mayor Ross Porter occupied the traditional lead car, followed by Grand Marshal Warren Semmel.
Next up was the Smethport High School Marching Band, numerous floats, notable students, school staff , and SASD Superintendent Charles Leasure.
The band from Cameron County High School also participated in the parade. Their football team, the Red Raiders, was in town to play the Smethport Hubbers.
Later in the evening, the two teams battled to a 7-7 half-time tie. The second half proved decisive, with the Hubbers outscoring the Red Raiders 28-7 to post their third victory of the season with a final score of 35-14.
During half-time, Ashlyn Southard was announced as the 2012 Homecoming Queen and David Easton as the Homecoming King.
The Homecoming dance was held Saturday night at the high school with music by Mick McMillan.