Smethport Web — by Annie Wolfe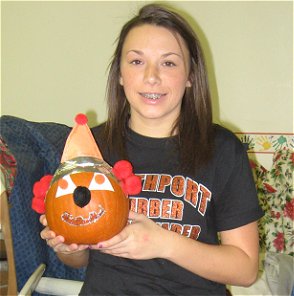 Make A Difference Day is the largest national day of community service. Earlier this month, millions of volunteers across the country united in a common mission to "be the change" they want to see in the world.
Over the past year and a half, Miss Megan Frontino has been volunteering her time with Big Brothers Big Sisters as part of her Senior Project. On Saturday, she completed her last event with us as part of Make A Difference Day. She helped our Bigs and Littles decorate pumpkins, which were then given to Kane Lutheran Home residents as a gift later in the day.
We've been lucky to have her with our organization and would like to thank her for all the help she's given us.