Smethport Web — by Nathan Muller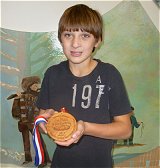 This year's Wheel Around the Hub Cycling Races, held on September 14th, featured a new Junior Mountain Bike Class for cyclists aged 12-13, 14-15, and 16-17, who participated in the one-lap 7.5-mile race.
Following the event, awards were presented during an outdoor barbeque celebration hosted by the Smethport Fire Department. Everything went smoothly, except that one 1st Place medallion for the 12-13 age class remained behind, unclaimed.
The medallion was finally united with its owner today at the Smethport Junior High School where Mayor Ross Porter and school principal Bob Miller officially presented it to Darion Gregory, son of Holly and Kirk Gregory of Smethport.
Initially worried about why he was summoned to the principal's office, Darion was surprised when told it was to receive an award. He said he expects to participate in next year's Wheel Around the Hub Cycling Races.