Smethport Web — by Janene Dunn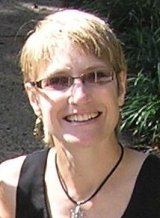 Julie Mader of Smethport has a variety of artwork on display at Charles Cole Memorial Hospital's Irwin Medical Arts Center as part of the hospital's Community Art Showcase.
Mader loves capturing the beauty of the area's streams, hillsides, landmarks and people; she will paint or draw to fulfill a specific commission as well as create pieces for the pure joy that it brings to her. Inspiration for her artwork can come from something as simple as the sunlight on a meadow or the music she's listening to.
To share her enthusiasm for art, she teaches several workshops in the area for aspiring artists of all ages. "I have always had a passion for art and have been drawing for my circle of family and friends since I could handle a crayon. Now that circle is rippling outward and I consider myself quite fortunate to be able to share my view of the world with others."
She has artwork for sale in shops throughout the area and has been a featured artist in recent fine art events including Art in the Wilds in Kane and Routes to Art in Olean, NY.
Her artwork has been reproduced as both limited and open edition prints, notecards, postage cancellations and even as a collector's plate. A sampling of Mader's artwork can be seen on her website at www.juliemader.com