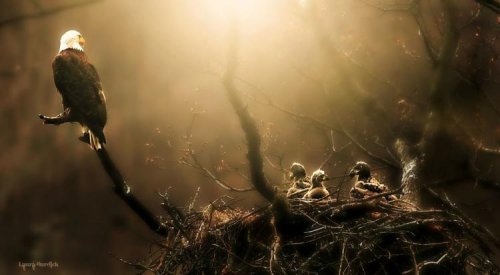 Smethport Web – by Linda Devlin
A photo of a bald eagle protecting and watching over its nesting young won first place in the Allegheny National Forest Visitors Bureau's 2018-2019 Photo Contest, out of 66 entries.
The winning photo, taken by Laura Burdick of Smethport, shows a bald eagle aerie full of eaglets in a tree-top surrounded in a whimsical aura of sunlight, streaking through the foliage.
Jeannie Porterfield, of Orangeville, Ohio, received second place for a winter-wonderland landscape photo taken in Tionesta. Also receiving second place was Jay Skinner, of Warren, for a photo taken of two lonesome hikers traversing the winter trail in the Allegheny National Forest Region.
Out of three third place positions Bill Vargo, of Warren, was awarded two of those positions for his winter landscape photo and silhouetted bald eagle photo taken around the area of the Allegheny Reservoir. Lindsay Burleigh, of Warren, received third place for a photo of two hikers enjoying a brisk winter walk in the national forest.
Burdick will receive $100 prize. Porterfield and Skinner will each receive $50. Vargo will receive two $25 prizes for his entries while Burleigh also receives $25. These winter season photos were required to be taken within our local communities or the Allegheny National Forest region.
The six winning photos will be on display at the Visitors Bureau, located in the Old Post Office, at 80 E. Corydon St., Bradford. All entries may be used in promoting visitation to our region by the Allegheny National Forest Visitors Bureau.