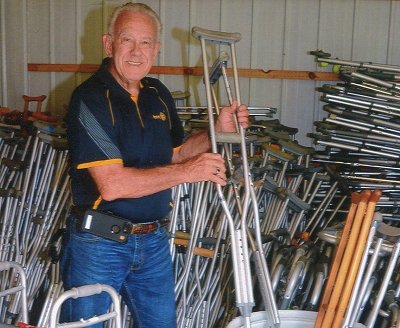 Bradford Era – by Fran De Lancey
In our throw-away culture, many pre-owned, but still highly usable mobility devices, such as canes, crutches, walkers and even wheelchairs are often sent to landfills where they occupy valuable space.
In other cases, these devices can be found in basements, closets and garages.
Crutches 4 Africa has found new homes for this equipment, also known as assistive devices.
Locally, Rotary International District 7028 has been collecting the devices for more than a year and a half. Collection barrels are located at Costa's Supermarket in Smethport, Tops Markets in Bradford and Olean, N.Y., and Reid's Food Barn, also in Olean.
Smethport resident Phil Smith, a member of the Keystone Rotary E-Club, is chairman of the project. Read More