Penn State Extension — College of Agricultural Sciences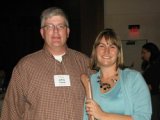 Jeff Tanner, Smethport, received the Volunteer of the Year Award, in the form of a walking stick, from Keep PA Beautiful President, Shannon Reiter, at the recent annual meeting held in Latrobe, PA.
Jeff has served as President of the Keep PA Beautiful Affiliate, PA CleanWays of McKean, for over seven years. Jeff is a leader in McKean County, serving on the Smethport Borough Council, as an active member of the Smethport Tree Commission, and an active member of the Penn State Extension McKean County Executive Board. He has actively participated in almost all of the local PA CleanWays activities.
Jeff and his wife Jennifer have adopted a rural road completing an annual cleanup event, utilizing their church youth group.