Smethport Web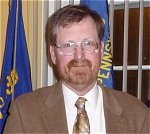 At the 9th annual dinner of the Smethport Area Chamber of Commerce on Thursday, guest speaker Dr. Tim Kelsey, professor of agricultural economics at Penn State University, discussed challenges the Borough, local businesses and residents might face as natural gas drilling moves into McKean County.
Drawing upon similar experiences faced by municipalities in Pennsylvania and elsewhere, Kelsey said that housing will be in great demand and public services – schools and law enforcement, among them – could be stressed by the influx of out-of-state workers.
Although natural gas drilling will create many new high paying jobs in the area, Kelsey said anecdotal evidence suggests that few local workers are being hired right now because they lack specific skills. This will change over time as more training programs are put into place and others expanded, he said.
Some businesses will benefit more than others, according to Kelsey, such as those in retail and transportation, while businesses that rely on tourism may not benefit as much.
Even if a business experiences more demand, Kelsey advised caution about expanding operations and hiring more staff too quickly because the frenzy of drilling activity will eventually settle down in favor of a longer term production and monitoring phase, which requires far fewer workers.
Likewise, the Borough and County must carefully evaluate investments in infrastructure and services, Kelsey said. Since natural gas drilling benefits the state more than municipalities in terms of tax revenue, residents could be saddled with costs long after the demand surge has subsided.
Even with all this change, Kelsey noted that there will also be new business opportunities. He cited one entrepreneur who equipped a truck to bring meals and supplies like gloves and socks to drilling crews in the field. Business was so brisk he had to expand to three trucks.
A hint of things to come… Several Smethport residents have already been approached by agents offering up-front bonuses for drilling rights on land near Smethport. And according to some crew members visiting local establishments, about 200 drilling sites are in various stages of planning around Smethport.