Smethport Web — by Nathan Muller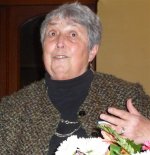 At last night's 9th annual business dinner of the Smethport Area Chamber of Commerce held at the American Legion, Bernie Reap was named Volunteer of the Year for 2009 for a lifetime of service to the community. "This award is way overdue," said Wayne Pearson, who presented the award plaque.
Pearson, last year's Volunteer of the Year, noted that Bernie Reap has been an active volunteer in the community for over fifty years. "Despite being married with children and a full time job, she found time to be in so many different and varied activities it makes your head spin."
"As a teacher in Smethport Area High School," said Pearson, "Bernie Reap spent countless after school hours with the children, getting them into such diverse activities as plays, musical events and even water sports."
Pearson highlighted other aspects of Bernie's generosity. "She was an outstanding music teacher and an inspiration to her students. She chose music that was both complicated and yet to the liking of her students. Her patience was remarkable because she dealt with a student group that had a wide range of singing ability. Her choirs performed at all sorts of non-school events, ranging from the Lions Club Annual Follies, to the Trinity Church junior choir, to various musical productions in the area. Under the name Swingin' Seventies, she took them on the road to such diverse places as Bradford, Wellsboro, and even Poland while it was still occupied by the Soviet Union."
Pearson continued, "If she weren't directing a musical production for a community event or playing the organ for someone's wedding, she was involved at the local swimming pool. It is rumored that she actually dug the hole for the pool. Just as she taught the children to sing, she taught them to swim. And just as she had the singers perform more complex numbers than just mouthing the words to a song, she would choreograph the swimmers to perform water ballets that were quite professional. In addition, through her efforts the Tri-County Swimming League was formed which included McKean, Cameron and Cattaraugus counties. And if that were not enough, she organized ski trips to Ellicottville for the community."
Pearson concluded by saying, "Bernie involved the young folk in community activities and introduced them to volunteering, even though they did not know it at the time. I suspect that her greatest contribution was what she brought to the children and maybe to the parents as well – that they could be more than they imagined."
After the presentation, several Chamber members rose to give impromptu accounts of their youthful experiences with Bernie Reap, including Jim Herzog, Linda Lake, and Marty Digel.
Marty Digel and Bernie Reap enthralled everyone with an account of Marty's detainment by communist authorities after taking an "illegal" photograph while on a student tour in Poland led by Bernie. As the camera kept changing hands between Bernie and the police, she mounted a vigorous defense of Marty, despite the language barrier. She insisted that they were all guests of the country – not spies. Finally, a Polish general in full regalia stepped in to restore common sense – by gallantly kissing Bernie's hand, returning the camera, and sending everyone off to resume their tour of the city.
Bernie was completely surprised at receiving the award and thanked everyone for all the kind words. By insisting that she did not deserve it, she created yet another priceless moment that will be long remembered in Smethport.