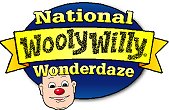 The Smethport Area Chamber of Commerce is sponsoring a "Discover Smerthport" quiz to coincide with the upcoming Wooly Willy Wonderdaze festival that runs from Thursday, June 18 to Sunday, June 21.
The quiz is available at Costa's Supermarket, The Country Porch, and the Senior Center. You can also download a copy right here.
The Country Porch is offering the prize, worth $125. The quiz is open to anyone – one entry per person. One winner will be drawn from all winning entries on June 21st at 3:00 pm. The winner need not be present to win. Good luck!