Smethport Web — by Janene Dunn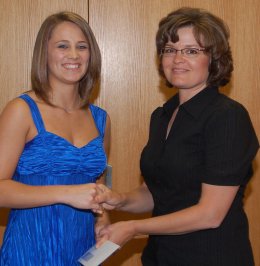 Brittany Shelley, a senior at Smethport Area High School, is the first recipient of the Douglas F. Bowman, MD Memorial Scholarship.
Shelley excelled in academics and was involved in numerous sports and activities while a student. She also served her community by volunteering her time as a mentor and tutor to fellow students, entertaining residents at Lakeview and Sena-Kean, picking up trash around town, and helping at benefit dinners. She plans to attend Gannon University in the fall to study nursing.
Charles Cole Memorial Hospital established the scholarship fund following Dr. Bowman's untimely death in November. Dr. Bowman served the hospital and the community in numerous roles including CCMH medical director and board member. In addition to seeing patients at his Smethport office, he cared for residents at Sena-Kean Manor and Lakeview Senior Care and Living Center and students at Smethport schools, and held positions within the McKean County Medical Society, Pennsylvania Medical Society, and McKean County Emergency Service Council.
The annual scholarship is awarded to a Smethport area student pursuing a health care related career with preference given to those seeking a nursing or medical degree. Recipients will also be chosen based on their service to the community.
To contribute to the fund, donate securely online at www.charlescolehospital.com or call 814-274-5204.