Smethport Web — by Nathan Muller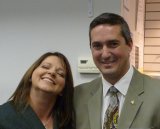 Smethport media moguls Jeff and Christy Andrulonis of Colonial Radio Group celebrated the official opening of their gleaming headquarters at One Bluebird Square in Olean, New York, Thursday evening.
The gala event featured the dazzling culinary talents of local chef Dan MacDonald from Bread Stix Café on 833 E. State Street. Dan served up a cornucopia of tasty treats that rekindled the appetite with every bite. All this was topped off with pumpkin beer and trendy wines.
The festivities included a ribbon-cutting ceremony and vacation gifts for Colonial's leading customers, plus prize drawings for guests. Smethport was well represented with many Chamber members in attendance, plus Smethport Mayor Ross Porter.
Colonial Radio Group is one of the region's great business success stories. The company buys gasping radio stations and resuscitates them with a vivacious blend of fresh programming and effervescent on air personalities that appeal to a diverse demographic in our region.
At the event, on air personalities JJ Micheals and Brooke Ehrhart were on hand to greet guests, along with other Colonial staff, including the station's colorfully garbed and bulbously proportioned mascot, "BOB".
The growing Andrulonis media empire currently boasts seven stations and a monthly newspaper, The Drill'n Man, aimed at the local oil and gas industry.
Jeff and Christy are very active in community affairs. Jeff is a member of the steering committee of Leadership McKean and is president of the Kane Chamber of Commerce. He is also a director of the Pennsylvania Association of Broadcasters. Christy is a board member of the Smethport Area Chamber of Commerce. Both are the principal organizers of Smethport's annual Wooly Willy Wonderdaze.
To round out their busy lives, Jeff and Christy raise two teenagers. Despite chaotic schedules, they maintain an even keel with verve and aplomb – qualities envied by all who have come to know them.