Smethport Web — by Nathan Muller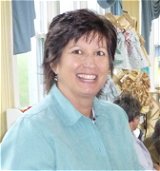 On Friday evening and all day Saturday, St. Luke's Episcopal Church hosted a two-day Fall Festival Arts & Crafts Fair, featuring the works of 22 crafts people from the Smethport-Bradford area and beyond.
The admission-free show included lunch and refreshments, plus three floors of vendor offerings that included floral displays, artwork, jewelry, photographs, and handmade quilts and all kinds of apparel.
Kim Cooney displayed her home-made Mountain Mustard in mild and strong versions, and offered samples for tasting. She and her husband Denny have turned mustard-making into a thriving family business in Austin, Pennsylvania. A spicy addition to any sandwich, we verified on the spot that their condiment also makes a great dipping sauce that can be used on cheese and crackers, chicken tenders, fries, and cheese sticks.
Loretta Ford had the most colorful display at the fair, featuring hand-made fall baskets of dried fall flowers. Loretta has holds a variety of jobs, including waitress at Connie's Route 6 Diner, and likes to do floral arrangements as a hobby. If the quality of her display was any indication, she has already crossed the boundary from hobbyist to professional.
Darlene Lyons from Duke Center, Pennsylvania displayed handmade purses, bags, totes, fleece hats, and baby quilts, among other items. She also makes items on request at no extra cost. She is retired and just likes to sew!
Also participating in the fair was Grandma's House in Bradford, where tea and freshly baked scones are served daily. Although "Grandma" was not at the fair in person, she displayed a variety of quality items brought over from her "House" at 16 Congress Street in Bradford.
The Episcopal Church Women thank all the volunteers and the exhibitors who contributed to the success of this year's Fall Festival Art & Crafts Fair. Proceeds from the fair will go to local charities.