Smethport Web — News Desk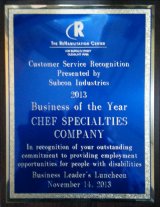 Chef Specialties Company, Inc. of Smethport, Pennsylvania was honored at a business leaders luncheon by The Rehabilitation Center of Olean, New York for their support of the Center's mission through the SubCon Industries division. During the luncheon, Chef Specialties Company received the 2013 "Business of the Year" Award.
The ceremony was held at the St. Bonaventure Country Club on Thursday, November 14, 2013. Jack and Mary Pierotti represented Chef Specialties Company.
SubCon Industries is a non-profit organization that provides employment-training opportunities for 200 adults with disabilities. The company is dedicated to developing their vocational skills, and good work habits, to help them achieve their individual goals. Chef Specialties Company has partnered with SubCon Industries for the last twenty-five years providing clients the opportunities to earn a living by filling and packing some of Chef's pepper mill and salt mill products.
Chef Specialties Company was founded in Detroit in 1940. The company was moved to Smethport from Kane in 1974 when the Pierotti family purchased the assembly operation. The company had been making metal parts for the pepper mills before that time.
The company is the largest supplier of pepper mills to the Foodservice Industry. Chef Specialties Company sells through large food supply distributors such as US Foods, Edward Don Company, Sysco Corporation, Gordon Foods, US Foods, Wasserstrom, SEFA, and many others. In turn, these distributors then sell to individual restaurants and restaurant chains.
Chef Specialties Company mills will be found in TGI Fridays, Longhorn Steakhouse, Outback Steakhouse, and many more. The Professional Wood mills are also used in the White House kitchens.
On the retail market side the company supplies many small gourmet shops, grocery chains, and online sites such as Target, The Chef's Catalog, The Wine Enthusiast Catalog, Woodcraft, and Amazon.com.