Smethport Web — by Nathan Muller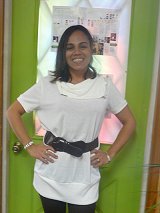 Jessica and Akete Kindle have opened Simply Healthy, a Herbalife nutrition club in Smethport that serves weight-management, energy-fitness and targeted nutrition products intended to support a healthy lifestyle for people of all ages.
Jessica offers a personalized approach in that she can understand members' specific needs and guides them in selecting the right products to achieve their goals. If weight loss is the goal, for example, a regimen of teas and shakes might be recommended, along with one regular meal per day.
One Smethport resident has shed 35 pounds in 30 days by following Jessica's advice, and now fits into long-forgotten coats and jackets. Apparently there is one side effect with this kind of weight loss… The people who experience it feel so good that they can't stop talking about it.
The club at 322 W. Main Street is open from 8 am to 1 pm and 4 pm to 7 pm on weekdays and Saturday. Contact Jessica at 814-331-1714 or jesskind12348@yahoo.com