Smethport Web — by Nathan Muller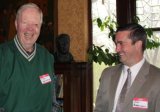 The Chamber of Commerce held its first "Business After Hours" event Thursday evening. Hosted at the Mansion District Inn B&B by innkeepers Jovanna and Ross Porter, the event drew over 30 people, some coming from Bradford and New York.
The purpose of the monthly BAH event is to provide an informal venue for where Chamber members can get together and build relationships and network with other businesspeople they would not normally have the opportunity to meet.
"The turn-out was beyond expectation, I met new people, everyone was in good spirits, and the refreshment spread was amazing," said Chamber president Wayne Foltz. "Thanks go to Inn owners Ross and Jovanna Porter for such a great party and their amazing hospitality."
The festivities were punctuated with a couple of raffles, with one having cosmic implications: Smethport's Jim Herzog, inventor of the Wooly Willy magnetic game, actually won a Wooly Willy T-shirt. Claudia Caminite won a gift basket.
"The BAH is off to a good start," noted Ross Porter. "It will gain momentum and just keep getting better."
Christy Andrulonis, vice president of Colonial Radio Group, organized the BAH calendar with all the participating businesses for 2012. A few slots are still open for those who want to host an event and provide a brief presentation about their business. Christy can be reached at 570-447-2186 or christy@andrulonis.com.
The next BAH event will be held at Northwest Savings Bank on Wednesday, April 25th at 5:30 pm. The bank has been a fixture on Main Street since 1999 when it replaced The Grange National Bank. NSB branch manager Mark Montecalvo will be the host. This will be a good opportunity to meet Mark and the rest of the bank staff.