Smethport Web — by Nathan Muller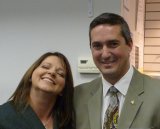 The Smethport Area Chamber of Commerce named Jeff and Christy Andrulonis as Volunteer of the Year for 2011 during the Chamber's 11th Annual business dinner Wednesday.
This award usually recognizes one person who has made a significant impact on our community with their time, commitment and generosity in helping others. This year, the Chamber deviated slightly by recognizing two individuals to share the same "Volunteer of the Year" award for their contribution to the quality of life in Smethport.
Since arriving here three years ago, the inseparable team of Jeff and Christy Andrulonis has been immersed in all aspects our community. We know them as the owners and operators of Colonial Radio Group, one of the region's fastest growing media companies, which continues to thrive in today's slow economy. While this is an incredible achievement by itself, more incredible is the time and energy they devote to making our community a better place for all of us and more inviting to visitors.
They invented and continue to work tirelessly to promote Wooly Willy Wonderdaze. In its fourth year, Wonderdaze has blossomed into an annual event supported by Patch Products. This year Gillette Razor is a major sponsor as well.
The Andrulonis's roll up their sleeves to plan the event, raise the funds, organize vendors, recruit volunteers, and arrange for the fireworks. During the event, they work every day to operate booths, keep vendors happy, set up and supervise rides for the kids, and attend to an enormous amount of details that keep things running smoothly.
In so many other situations, when they see things that need to be done, they don't pull back out of concern for demands on their time. Their first reactions are: "What can we do"? "How can we help?" "What do you need?"
It may look impossible to the rest of us, but whatever the task, Jeff and Christy Andrulonis manage to get the job done. For this dedication, the Smethport Area Chamber of Commerce named "Team Andrulonis" its Volunteer of the Year for 2011.
Due to a well deserved vacation, Jeff and Christy were not in attendance at the dinner. Steve Mills, Colonial Radio Group's Operations Manager, accepted the award on their behalf.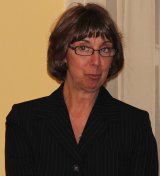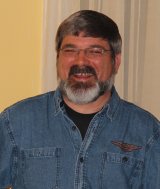 The Chamber award for "Business of the Year" went to Hamlin Bank, which has been a fixture on the corner of Main and Fulton Streets since 1887. Judi Olson accepted the award on behalf of all the bank's employees.
The Smethport Fire Department received the Chamber's Community Service Organization of the Year award for its outstanding performance year after year in serving Smethport and surrounding communities. Greg Rounsville, the Fire Department's president, accepted the ward on behalf of all the volunteer firefighters.
A number of gifts were raffled off during the dinner, each donated by a Chamber member.
Tom Weiser of Total Engraving offered a laser-etched wall clock made of Pennsylvania hardwood. Artist Judy Leasure of JAL Studios donated a pastel drawing she did of a woodpecker. Linda Muller of Smethport Web Services, contributed a hand-made cheese serving board.
Mary Pierotti of Chef Specialties gave a gift basket containing a pepper mill, spices and related items. The McKean Historical Society provided a gift basket containing a collection of items; noteworthy among them, a T-Shirt designed by Barbara Bowman.
Nathan Muller's Ascent Solutions offered a handcrafted wood bowl made of Cherry. Linda's Mane Attraction, operated by Linda Tronetti and Lisa Foltz, donated a foot spa. Chamber president Wayne Foltz provided a bottle of red wine from Virginia, and Hamlin Bank provided a cache of gold dollar coins, in addition to a gold coin at every place setting.
Linda's Mane Attraction supplied an ample selection of delicious hors d'oeuvres during the social hour, which were enjoyed throughout the evening, causing a few attendees to put their diets on hiatus.
President Wayne Foltz introduced the new five-member Executive Board, consisting of himself, plus:
Vice President – Mike Montecalvo, branch manager at Northwest Savings Bank
Treasurer – Lu Vandermark, McKean County Historical Society
Secretary – Diana Covert, Light Waves Laser Engraving
Director – Jovanna Porter, Mansion District Inn Suites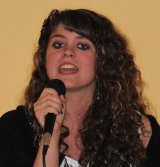 Kaitlyn Hallock, a 15-year old honor student at Bradford Area High School, provided an exceptional singing performance of country tunes, in addition to two of her own — "I'm A Train" and "Boogie Woogie Rock and Roll". During the summer she spends her time in Nashville working with her label, Nashville Sound Records.
Kaitlyn was seen in the 2011 Monday Night Football commercial with Hank Williams Jr. She has also performed at the Nashville Palace, Nashville Spotlight television show, and the Grand Ole Opry. At age of 12 she cut her first CD titled, "Dreamer in a Small Town" and donated the proceeds to charity.