Smethport Web – Nathan Muller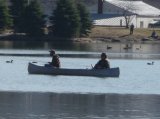 With the respite of winter weather, anglers of all ages swarmed the banks of Hamlin Lake on the opening day of fishing season. With the water still cold, the trout were ready to snap at pretty much anything cast their way.
As the day wore on, most folks seemed content with just enjoying a rare sunny day, and less concerned with snagging a trophy size trout.
But a whole season of fishing awaits Hamlin Lake and nearby rivers and streams. That means there's a big story waiting to be told.