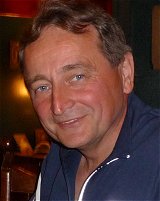 When Stephan Gerth peddled down Main Street Saturday evening, he was probably thinking about the best place to set up his tent for a night's rest before pushing on to his destination — San Francisco. What he encountered next in the twilight hours of the Pennsylvania Wilds was so unexpected that thoughts of finding a suitable tent site quickly evaporated. He was about to experience Smethport hospitality…
By the look of Stephan's overly packed bicycle and slogging pace, Matt Muller, a medical assistant at the Bowman Health Center, quickly sensed that the cyclist was on an adventure trek to some distant land. Seven years ago Matt had embarked on a similar expedition from Washington, DC to Seattle, Washington. He caught up with Stephan as he was about to head off to Rt. 59. After a brief conversation, as if between old campaigners, the two headed back down the street with the idea that Stephan would tent out in the backyard of his parents' home, the Bouton House.
Upon their arrival, Stephan was instantly outfitted with beer and snacks. Seated at a round table on the backyard porch, Stephan said he was from the German town of Kirchberg in the northern part of the country, "One hundred kilometers north of Frankfurt." He was nearing retirement at age 55 and explained that he was bicycling across America "for my soul." If he didn't do this one great adventure now, he said time would pass him by, leaving him to wonder what could have been. His wife and two sons back home supported his trek.
Stephan researched his family ties in America before leaving Germany. He found relatives with a shop in Brooklyn and fully intended to pay a visit upon his arrival in New York City. But he sensed that Brooklyn was a rough place and that it would not be wise to leave his bicycle unattended along busy streets even for a short time. Furthermore, the shop was not as he anticipated; it was very run down. Feeling uncomfortable, Stephan aimed his bicycle westward to begin his trek.
With the round-table conversation going well into the evening, the Muller family brought their guest to The Cottage House for dinner. Ross and Jovanna Porter joined them as did Smethport resident and teacher Claudia Caminite, who comes from Weingarten, Germany. Claudia and Stephan carried on a very animated conversation that only two native-born Germans would appreciate.
After dinner it was time to retire for the night with Stephan expecting to set up his meager tent in the back yard on a typical frosty spring night. Matt's mom, Linda, wouldn't hear of treating a guest in such a manner. She wanted Stephan to stay in a spare bedroom. Concerned that he was imposing, Stephan insisted on sleeping in the basement. Fortunately, there was a clean bed that had just been moved to the basement, as well as a bathroom, so it all worked out to everyone's satisfaction.
The next morning, Stephan headed out, filled with travel advice from Matt who years ago also took the northern route west. "The green hills of Pennsylvania can be brutal. The Rockies will be cake — that means easy — by the time you get there," Matt advised.
Stephan's goal is to do 50 miles a day, until he gets to the open prairie across the Mississippi River where he will try for 100 miles a day, until slamming into the Rockies where he will be reduced to a snail's pace. He consulted his handlebar mounted road map at the junction of Route 59 and Route 6 and asked one last question before setting off, perhaps already anticipating his next bivouac site, "Please tell me, are there bears or rattlesnakes around here?"
Stephan greatly appreciated the chance encounter with a fellow trekker, the hospitality he found in Smethport, and the friendliness of everyone he met during his brief stay here. Another surprise: finding out that his host — Matt's father, Nathan — was born in Brooklyn.