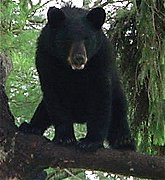 Homeowners around 911 W. Main Street were treated to the sight of a black bear cub stranded in a tree today, precariously balancing itself on a tree limb. The bear spent hours off the ground until a conservation team took it away safely.
Once almost wiped out by heavy logging and overhunting, black bears are experiencing a strong comeback in Pennsylvania. Over the last four decades, their numbers have quadrupled, from 4,000 in the 1970s to roughly 16,000 today, according to Game Commission estimates.
Intensive bear-management efforts, an abundant food supply, and limited hunting are responsible for the population growth.