Smethport Web — by Nathan Muller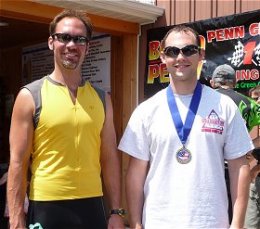 The 4th Annual D.A.V. Willow Creek Triathlon, benefiting disabled American veterans, was held Saturday, drawing 171 participants, including several from Smethport. The course spanned Allegany State Park, NY and Willow Creek, PA.
Participants had to swim 300 yards, bicycle 15 miles, and run 3 miles. Medallions were awarded to the top 3 finishers in each of 11 age classes.
Izach Porter, son of Ross and Jovanna, won the 1st Place medallion in the 25-29 age class. A graduate of Smethport High School (Class of '98), Izach now lives in Pittsburgh where he has a successful career in finance. His wife, Stefi, graduated from law school in June and has just started her career as an attorney. View Izach's running style on our super slow-mo cam.
A noteworthy performance was turned in by triathlon novice Matt Muller, who narrowly missed a 3rd Place finish in the 30-34 age class. Matt fell far behind in the 300-yard swim, but finished very strong in the cycling and running segments. View Matt's runnng style on our super slow-mo cam.
A medical assistant at the Bowman Health Center, Matt is finalizing arrangements for a one year stay in China, where he will help students with their English, which is now a college entry requirement in that country.
Kim Cavallaro also participated in the triathlon. A native of Smethport and the daughter of Harold Lindgren, Kim lives in Bradford and is a Physical Education instructor at Smethport Area Jr./Sr. High School.
Several teams participated in the Willow Creek Triathlon. Smethport resident Ken Vinca was part of the Class of '79 Veterans team. Ken did the biking, Dave Confer of Bradford did the swimming, and Steve Schiappa of Bradford was the runner. All three served in the military (Ken and Dave served in the US Army and Steve in the US Air Force) and all graduated from Bradford High School in 1979. They completed the triathlon in 1 hour and 20 minutes.
The Willow Creek Triathlon, based in Bradford, raises money to help disabled veterans. This assistance includes providing a van, driven by volunteers, to transport veterans to medical appointments.