Smethport Web – by Nathan Muller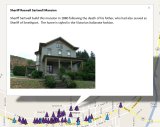 About 40 people attended last night's presentation by UPB students and staff who introduced the newly developed Trail App for Smethport. The meeting was held at Hamlin Memorial Library.
The app overlays trail information onto Google Maps. With an iOS or Android mobile device, users click on a specific point highlighted on the map. These may be trail markers or local points of interest. Clicking on the markers opens a pop-up window that contains more information.
The objective of the project is to build connections between outdoor enthusiasts and local businesses, and includes educational and recreational features that will be useful to visitors, residents, and students.
The database will be hosted at the Allegheny National Forest Visitors Bureau. Before year's end the Android version of the app will become available for download at the ANFVB website. Availability of the iOS version of the app will take a bit longer because it must go through Apple's vetting process before it can appear in its App Store.
Through an administration interface, the Trail App can be continually enhanced with more information, including text, images, audio, and video. Links to web pages and other online resources may also be added.
Anyone will be able to participate in building out the app by funneling information to a local administrator trained in using the interface. UPB has even developed lesson plans for Smethport teachers who will be able to introduce students to all the concepts related to the app, including GPS usage and mapping.
Dr. William R. Schumann, projector director, noted that the Trail App is further along in development and sophistication than similar projects at other universities. He expects the Smethport Trail App to link up with the apps developed by other communities, thus creating a greater regional network.
The Trail App project is a joint partnership between the Allegheny National Forest Visitors Bureau, the Potato Creek Trail Association, the Smethport Area School District, and the University of Pittsburgh at Bradford.