Smethport Web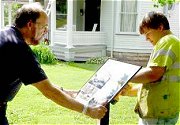 The first 10 plaques in a continuing series have been installed around the Borough to commemorate great events in Smethport history. The project, funded by a Lumber Heritage Region grant, is being implemented by Smethport Mayor Ross Porter, who began researching and designing the project during the spring of 2009.
Known for developing Planet Smethport, a unique school project that is now in its 11th year, Porter created camera-ready artwork using Adobe Photoshop and Adobe InDesign and submitted the graphics to sign manufacturer Système Huntingdon Inc. By preparing the graphics himself, Porter was able to allocate all the grant money to the actual manufacturing of the signs.
The following plaques, mounted on pedestals, are now installed at the following locations:
#1 — "4 Courthouses in Smethport's Public Square" located on Courthouse walk east-side at 500 W. Main Street.
#2 — "1861: Birth of the Bucktail Civil War Regiment" located on Courthouse walk west-side at 500 W. Main Street.
#3 — "1892: Building of St. Lukes Church; William Halsey Wood's Architectural Triumph" 600 block west of the building.
#4 — "Building of the East-West Highway & Astor House Hotel" 707 W. Main Street.
#5 — "1826: "Orlo Hamlin Stays In Smethport" located 802/820 W. Main Street.
#6 — "1875: Railroads Come to Smethport" located Hamlin Lake Park below Washington Street to the east of the softball field.
#7 — "Helen Crocker Cowles Paints Smethport, circa 1858" located South side of Hamlin Lake on Willow Street across from point of Herzog Island.
#8 — "1890s: Mechanic Street & the Giant S.J.Gifford Sawmill" located on Willow Street just below spillway west of Mechanic Street Bridge/Dam.
#9 — "1822 Construction of Hamlin Lake Mill Pond" located north-side of spillway to right of Mechanic Street bridge.
#10 — "Smethport & the Underground Railroad, Medbury House Station" located south side of Route 6 across from 604 E. Main Street.