Smethport Web — by Nathan Muller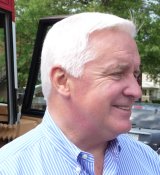 Tom Corbett visited Smethport on Saturday. The Republican Gubernatorial candidate stopped at two of the Borough's landmark businesses as he stressed the importance of creating and keeping good, well-paying jobs in Pennsylvania.
To learn firsthand the concerns of business owners in the Smethport area, Corbett chatted with Connie Ronan at her Route 6 Diner, as well as Jamie and Jack Pierotti's The Backus Company, including its subsidiary, Chef Specialties Inc.
Corbett then addressed a crowd gathered at the McKean County Courthouse where he was introduced by State Representative Marty Causer (R-67). Corbett related his philosophy to encourage job growth. He said, as Governor, his administration will be guided by three principles: fiscal discipline, limited government and free enterprise. Listen to Tom Corbett's full speech.