Smethport Web — by Les Jordan Jr.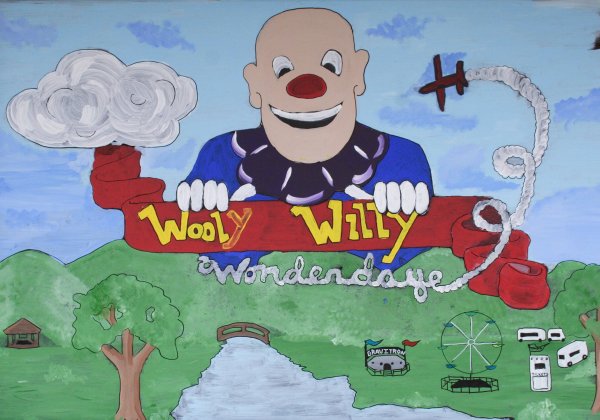 The Smethport Area Chamber of Commerce was pleased with the amount and quality of entries in the Wooly Willy Window Art Contest held during the Wonderdaze festival from June 18-21.
The judging on all the entries was close with only a few points between the top and bottom places.
Participants in the contest included:

James Angell, Attorney
Northwest Savings Bank
Foxes Pizza
Smethport Diner
Buchanan Brothers Pharmacy
Smethport E-Sales
Perfect Pace
Edward Jones Investments
Michelle Neely
Smethport Senior Center
Country Porch Café
Smethport Library
Kwik Fill
Allegheny Eye Care
Smethport Family Center
The first place winner is Buchanan Brothers Pharmacy because of the way they combined Wooly Willy with Route 6 themes and business. As the first place winner, the Pharmacy gets a $50.00 savings bond from Hamlin Bank & Trust Co.
Second place went to Fox's Pizza for the way their design emphasized the Wooly Willy Wonderdaze festival.
Third place went to Edward Jones Investment for the way Wooly Willy was tied with a business theme.
Honorable mentions go to Northwest Savings Bank, Perfect Pace, The Country Porch Café, Smethport Family Center, Kwik Fill, and Allegheny Eye Care.
Entries were judged on a scale of 1-5 in three categories: Originality, Theme, and Quality of Artwork.
A hearty thanks goes to all participants.