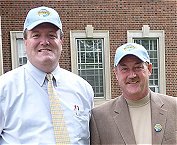 The first annual National Wooly Willy Wonderdaze festival officially opened Thursday afternoon in Smethport with a ceremony on the Court House steps. Retired Marine Corps Master Sergeant George Tufts and the American Legion Color Guard started the ceremony with the National Anthem.
Event chairman Jeff Andrulonis of Colonial Radio Group welcomed Smethport residents and visitors to the four day festival and thanked the committee chairs for making the festival possible: Jackie Taylor (vendors), Lester Jordan, Jr. (street dance), Nathan Muller (car show and parade), Christy Andrulonis (fireworks).
Jeff introduced guest of honor Bob Wann, CEO of Patch Products in Beloit, Wisconsin. The company acquired Smethport Specialty Co. and the Wooly Willy brand last year. Accompanying Mr. Wann was Dick Powell, the CFO of Patch Products.
 
A 30-year veteran of the toy business, Mr. Wann noted the longevity of Wooly Willy in a time when most toys are introduced with great fanfare and are soon forgotten. He said Wooly Willy, introduced in 1955, stands among the very few toys that have withstood the test of time and are still sold today, such as Monopoly introduced in the mid '30s, Slinky introduced in the early '40s, and Etch A Sketch, introduced in the late '50s.
What accounts for the enduring popularity of these toys? Mr. Wann summed it up as, "Simple is best." He said, "Wooly Willy was a simple idea… It provided great value at a great price."
On hand for the ceremony was Jim Herzog, the creator of Wooly Willy, who donned a Wooly Willy cap and glasses with a red nose. "We wouldn't be here today if it weren't for Jim Herzog," Mr. Wann said.
Mr. Wann concluded by thanking Jim Herzog "for comining up with the idea and giving us this reason for coming together."
Following the remarks, a cake with the Wooly Willy Wonderdaze logo was served to guests.