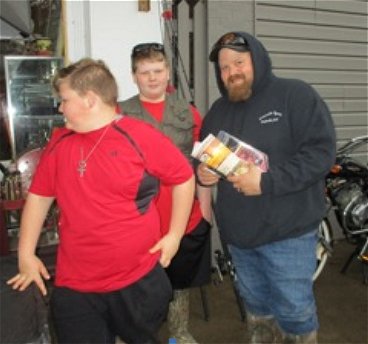 Smethport Web – by Mary Hosmer
Once again, the weather gods smiled on McKean County E-Sales and Seneca Resources and held off on the rain for an hour and a half on Saturday, April 20, so Perry Burdick of McKean County E-Sales could award prizes to the anglers that caught 32 tagged trout over the week since the opening day of trout season on the 13th of April.
Pictured: Derek Carlson of Mt. Jewett and his two sons with the prizes for their tagged trout.
The last tagged trout was caught the morning of the ceremony and the angler registered his trout just before noon on Saturday, the deadline for registration. One angler even caught two of the 200 total tagged trout that had been stocked.
The awards ceremony started with Mike Hancharick of Seneca Resources as the keynote speaker. Mike expressed his pride that Seneca Resources could support such a community event as was organized by McKean County E-Sales to benefit both the community and the Ruffed Grouse Society.
Mike also shared with the crowd his pleasure with a new project by the Ruffed Grouse Society on Collins Pine Company lands to benefit wildlife on a reclaimed Seneca Resources pond site for gas well exploration. This new wildlife project is starting this year in western McKean County and is a direct result of Seneca Resources collaboration with Collins Pine Company and the Ruffed Grouse Society. Mike concluded his presentation by wishing all anglers, "Good luck with your catch this afternoon!"
Eleven of the 32 tagged trout caught were qualified to win the $10,000 prize because of the color of the tag. All eleven anglers were also put into a special drawing to receive two top prizes other than the $10,000. Carl Stolz won the rifle donated by McKean County E-Sales of Smethport. Eric Lasher won the binoculars donated by Vortex Optics of Wisconsin.
ALL anglers at the awards ceremony on Saturday received prizes donated by the businesses listed below AND Burger King coupons from the Burger King of Bradford. All youth attending the ceremony also received free gifts and Burger King coupons. Volunteers from the Allegheny and Upland Bird Hunt Chapters of the Ruffed Grouse Society were on hand to hand out coupons, magazines, and prizes.
Although none of the 32 tagged trout caught had the winning tag number for the $10,000 prize, every angler left with a prize and the good feeling that they had caught a special trout over the week that netted them a prize they could use in the future. The winning prize number for the tagged trout not yet caught, and still swimming, is on display at McKean County E-Sales in Smethport.
McKean County E-Sales, Seneca Resources, and the Ruffed Grouse Society thank these following businesses and organizations that stepped up to support this community event.
Bill and Louise Avery of Wilcox, Elk County
Burger King of Bradford, McKean County
Crescent Beer Distributor, Inc., Mt. Jewett, McKean County
Ducks Unlimited, York County
Habitat for Wildlife, Johnsonburg, Elk County
Mary Hosmer, Ridgway, Elk County
Hamlin Bank, Smethport, McKean County
The HUB, Smethport, McKean County
Lucy's Coffee, Tea, and Gifts, Ridgway, Elk County
Mckean County E-Sales of Smethport, McKean County
Mountain Laurel Federal Credit Union, Kane, McKean County
Myrna's Mercantile, Crosby, McKean County
NAPA, Ridgway, Elk County
Nystrom's Garage, Kane, McKean County
PA Trappers Association, District 4, NC PA
Olson & Tenglund (NAPA), Smethport, McKean County
Realtree Outdoor Products from Georgia
Reiter's Meat Provisions, Wilcox, Elk County
Save-A-Lot and Shop 'N Save Grocery Stores of McKean County
Smethport Auto Wash, Smethport, McKean County
Smethport Diner, Smethport, McKean County
Top Outdoor Products, Renovo, Clinton County
Vortex Optics of Wisconsin
Brenda Walker of Clermont, McKean County
The Ruffed Grouse Society was founded in 1961 to promote and increase awareness of young forest management and to maintain suitable habitat that supports healthy populations of ruffed grouse, woodcock, deer and many songbird species that depend on forest diversity to survive and prosper.