Smethport Web — by Nathan Muller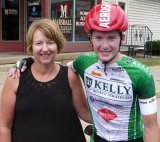 Smethport's annual Wheel Around the Hub cycling races drew 60 participants Saturday under threat of rain. Although the race started at a fast pace on the Borough's new road surface, lingering humidity from morning rain took its toll as the 53-mile race wore on.
View the race day album by Les Jordan Jr.
Benjamin Fogle, representing the Spokes-N-Skis / Altoona Bicycle Club, won the Men's Division Gold Watch with a time of 2:09:13.13. Fogle won the event in 2012 with a time of 2:08:05.145. His mother Heidi reports that Ben races all over the country but that Smethport is his favorite venue.
Three seconds separated Fogle from second place finisher Kevin Westover who posted a time of 2:09:16.13. Niles Vaivars came in third with a time of 2:09:16.38.
In the Women's Division, Lisa Weiss posted a time of 2:16:03.53 to take the Gold Watch. Janel Nye came in second with a time of 2:16:04.74.
The only other female cyclist in the 53-mile course, Lisa Carr, suffered a flat tire during the first lap and could not finish the race. Carr posted a second place finish in 2013.
In the 15-mile Men's Division, Ron Ferreira took first place with at time of 42:57.86. Joseph Shoram came in second with a time of 42:58.89 and David Novak finished third with a time of 43:08.75. Novak had placed second in the 2010 event.
In the Women's Division, Lora Pirello took first in the 15-mile race with a time of 43:09.66. Whitney Reed came in second with a time of 48:27.76. Beth Jameson finished third with a time of 50:08.74.
View the award photos by Les Jordan, Jr.
Integrity Sports of Williamsport, Pennsylvania provided timing services for the event that included disposable radio frequency identification (RFID) circuitry embedded in paper tags affixed to participants' bicycles. Unlike the hardware devices used in previous races, the RFID tags are much less expensive, easier to deploy, and do not need charging.
For complete results of the 2015 Wheel Around the Hub event, go to the Integrity Sports website: 53-mile race and 15-mile race.
Awards were presented at the Smethport Fire Department during an after-event party featuring BBQ, beer and musical entertainment by Hamlin Station Blue Grass Band.
The Wheel Around the Hub raised $4,000 to benefit the Smethport Fire Department.
Title Sponsors: Zippo Manufacturing, Kessel Construction Company, and Buckler Transport Inc.
Sponsors: Hamlin Bank & Trust Company, Northwest Savings Bank, Howard Drilling Inc, Pipe Eye Sewer Services, D&D Builders of McKean County, Gas Field Specialists, Costa's Ace Hardware, Edward Jones Financial, Buchanan Brothers Pharmacy, Corner Bistro & Pizza Co., Woods-Baker & Ross, Lakeview Senior Care & Living Center, St. Elizabeth's Roman Catholic Church, Smethport Web Services, Hagg's Tax Team, and Seneca Resources Inc.
Special thanks to the following for other special services – Ross & Jovanna Porter, Jim Wallace & family, Isadore's Farm, Mr. & Mrs. Ron Willis, Chuck & Jerry McKeirnan, Jeff & Christy Andrulonis, McKean County Sheriff's Department, Chief of Police Pat Warnick and his department, Smethport Borough workers and Council, Keating Township Supervisors, PennDOT, Pennsylvania State Police, Fran De Lancey, Les Jordan, Jr. of Discover Smethport, Priority Care Ambulance, Race Announcer Paul Costa, Max Simms, and many more not listed that volunteer their services to make this event happen and run smoothly the day of the race.