The Bucktails were formed as the result of a recruiting drive by political activist and prominent businessman Thomas L. Kane in 1861. Pennsylvania governor Andrew G. Curtin authorized Kane to form two companies of volunteers.
Throughout the region, about 700 men answered the call for foot soldiers, coming from the wilderness areas of Elk, McKean, Tioga, and Cameron counties. Most were expert marksmen, giving the Bucktails their well deserved reputation as sharpshooters.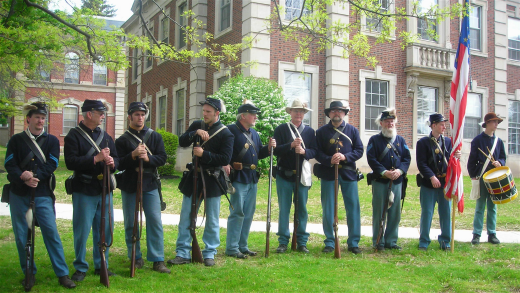 Bucktail "muster".
In Smethport, outside the present McKean County courthouse, 70 volunteers assembled for duty. Before leaving the borough one of the men, James Landregan, plucked a tail from a deer hanging outside a local butcher shop and stuck it in his cap. Others took pieces from the hide to put in their caps. When Kane saw this he decided to call his troops the Bucktails. Even the regimental flagstaff, a green hickory pole, was topped by a bucktail.
Company K of the 150th Bucktails was assigned guard duty at President Abraham Lincoln's summer cottage just three miles from the White House. Other Bucktail units participated in major engagements at Dranesville; the Seven Days Battles of Mechanicsville, Gaines Mill, New Market Crossroads and Malvern Hill; Second Bull Run; South Mountain; Antietam; Fredericksburg; Gettysburg; the Wilderness and Spottsylvania; Bethesda Church.
There are several Bucktail re-enactor groups in the region, including the Bucktail Re-enactors Group, Co. I, in Smethport. Local photographer Les Jordan, Jr. has put togeher this tribute to the Bucktails, featuring members of the re-enactors group.
Ross Porter offers this historical perspective of the Bucktails, focusing on the initial recruitment drives by Thomas L. Kane and Asa Cory, as well as the role of recruit James Landregan in creating the "Bucktail" monicker.