Smethport Web — by Phillis Barnhart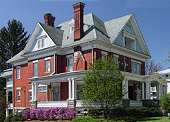 Smethport Garden Club has put together a Tour of Homes this year that will entertain you — even after the day is over! The colorful ticket/brochure will be a wonderful keepsake for years to come.
There are 10 stops on the Tour, starting at the Smethport Senior/Visitors Center and Elderberry Sweet Shop. Each home is unique in architecture and friendliness. Homeowners and Garden Club members will be on hand at each featured location to greet you and make you feel right at home.
The Greens invite you to their renovated — victorian to colonial — home on West Water Street. Linda and Nathan Muller welcome you to 707 West Main Street, a magnificent home indicative of the early 1900's. Right next door, as you enter the leaded glass entry, the O'Days are on hand to greet you at their "work in progress."
Going up the hill will bring you to Mark and Gretchen Simms' casual family home. Bonnie Semmel will welcome you to the Georgian Federal house she and Warren call home on Mechanic Street. You will turn onto Bank Street and make a stop at the very welcoming home of Shirley Gault. Bob and Shirley have done much renovating to this "farm' house throughout the years.
Then it's a drive to the country to the wonderful horse farm of Steven and Anna Miller. Although the house is not open for the tour, you make take time to stop and walk throughout the grounds of a very impressive horse farm.
Continuing over the Potato Creek bridge onto Route 46, turn left and visit the wonderful farmstead of Bruce and Joan Washburn. Bruce will also welcome you to his woodworking shop on the premises.
After all these lovely homes, you will be thirsty and hungry. The East Smethport Church on Route 6 offers a "comfort zone" for the afternoon. You may stop in any time during the afternoon for a tour of the church and enjoy warm mulled cider and treats.
The Garden Club has sponsored this Tour for 8 years and feels this is truly the best. The proceeds are used for beautification projects in the Borough. Hours for the Tour are 12:30 pm to 4:30 pm. Tickets are available at the Senior Center and Buchanan's Pharamacy on Main Street.